Astana
Mongolia awarded Orman Nurbayev, the CEO of QazaqGeography Republican State Association, with a high award for his contribution to the development of relations between the two countries.
During the event organized on the occasion of the 30th anniversary of the establishment of diplomatic relations between the Republic of Kazakhstan and the Mongolian People's Republic, an official awarding ceremony was held. Sayanbuyan Amarsaikhan, Deputy Prime Minister of Mongolia, presented the Order of the Polar Star to Orman Nurbayev, CEO of QazaqGeography RSA for his valuable contribution to the development of relations between Mongolia and Kazakhstan.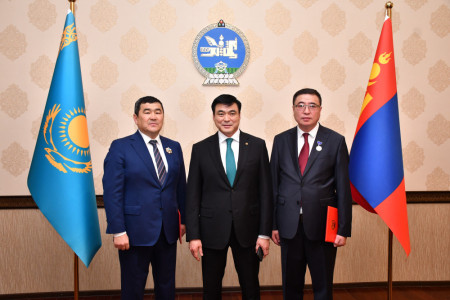 "Kazakhstan and Mongolia are politically connected by 30 years of cooperation, but the history of friendly relations between our states is much older, and I am sure that this connection between the countries will only grow stronger. It is a great honor and responsibility for me to be a knight of the Order of the Polar Star. I also understand that by doing so, the leadership of Mongolia expresses its respect for the fraternal people of Kazakhstan and emphasizes the importance of relations between our countries," Orman Nurbayev said.


Let's note that in 2007-2012, Orman Nurbayev was the Ambassador Extraordinary and Plenipotentiary of the Republic of Kazakhstan to Mongolia.

The Order of the Polar Star was established in 1936 as the highest state award of Mongolia for foreign citizens, which is awarded to military and civilians who have achieved success in strengthening Mongolia's military power, developing its economy, culture and healthcare.


Another high award on behalf of Ukhnaagiin Khürelsükh, the President of Mongolia, was received by Akedil Toishan, Kazakhstani scientist, researcher of the International Turkic Academy. He became the winner of the Friendship Medal.


For reference:
QazaqGeography is a voluntary geographical community of citizens united by a common desire to explore the rich nature and distinctive culture of Kazakhstan, preserve the historical and cultural heritage of the country and pass on their knowledge to future generations
QazaqGeography was founded in 2013 as a national geographical society and today unites more than 1,000 members and has 11 regional offices around the world Kazakhstan.